I'll praise her every day.
from islandbuzz.com
Her water smooth and fine
Where Errol Flynn and big-shot friends
Had a rollicking good time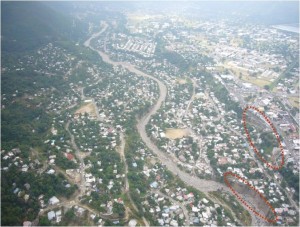 from gleanerblogs.com
In Hope River Parson Bedward
'Dip dem in di healing stream'
Drink up to bloom and preen.
from luckybydesign.blogspot.com
Through the Rio Cobre gorge
Flat
Bridge
warn us, "Watch yuself -
Don't test this place my youth."
Miss Rio Minho reign supreme
Longest river in the land
She start from Dry Harbour Mountain
Then in St Ann Dunn's River
Give the world some special Falls
Where James Bond bathe in 'Dr No'
And tourists always call.
from budgettours.com
Call crocodile, throw line
It water the bread basket
Keep Jamaica feeling fine.
from www.travelswithtwo.com
My people fish, plant rice
That river full my granny pot
Give thanks for all our rivers
We are a God-Bless place.